Homemade Bandsaws (424)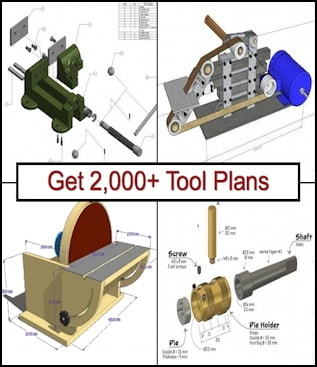 Homemade Bandsaws and Bandsaw Tools
HomemadeTools.net's bandsaws category is perfect for locating hundreds of different bandsaw builds, bandsaw modifications, and a huge variety of different bandsaw cutting jigs. Whether you're looking to build your first bandsaw, or you want to modify your existing bandsaw for different cutting jobs, we have numerous homemade bandsaw tools that will be perfect for you.

We have builds listed of many different bandsaws that you can build at home, including bandsaws for cutting both wood and metal. In addition, our bandsaw builds come in many different sizes, and include both fixed and portable bandsaws.

If you'd like to modify your bandsaw for specific cutting tasks, browse through our listings for different bandsaw modifications, including bandsaw vise jaw extensions, stock extensions, speed reducers, dust brushes, dust covers, hold-downs, lights, tensioners, blade guides, zero clearance inserts, clamping plates, blade feeds, laser guides, bandsaw dust collectors, tongs, and different kinds of bandsaw fences.

You can also mobilize your bandsaw, or make a stand or enclosure for it, using different builds we have for bandsaw stands, bandsaw jacks, carts, enclosures, and even mobile bases for bandsaws.

Our homemade bandsaws category also includes different builds for portable bandsaws, such as Porta-Band mounts, Porta-Band conversions, and a variety of Porta-Band stands.

Many bandsaw owners are looking to build different kinds of jigs for their bandsaws. In our homemade bandsaws category, you'll find many kinds of cutting jigs for your bandsaw, including jigs for cutting square tube and aluminum angle, as well as jigs for cutting logs, such as resawing jigs, bandsaw mills, and various log milling fixtures. We also feature builds for many different bandsaw sleds, sliding tables, miter attachments, circle cutting jigs, angle fixtures, and cross slide modifications.

In addition to different kinds of homemade bandsaws, bandsaw stands and dollies, and bandsaw cutting jigs, you can also find various different types of bandsaw conversions, bandsaw wheel repairs, blade repair techniques, mini bandsaws, tire changers, and complete restorations of vintage bandsaws.

If you want to build a bandsaw, accessorize your bandsaw, or build a specialty cutting jig for resawing, milling logs, or cutting circles, you'll find a huge selection of different DIY bandsaws and bandsaw accessories and modifications here on HomemadeTools.net.
BuildThreads Network:

HomeMadeTools.net