Homemade Bicycle Tools (536)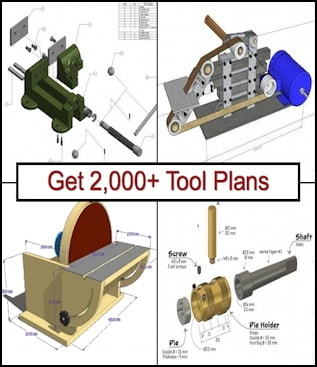 Homemade Bicycle Tools
HomemadeTools.net's bicycle category is the ideal place to locate hundreds of different tools, fixtures, jigs, and accessories for maintaining or building your bike. We have numerous different homemade and DIY tools listed for bicycle wheels and tires, brakes, forks, chains, frames, and seats, as well as a huge variety of bicycle-powered devices, bicycle transporting racks, bicycle working stands, and many different kinds of bicycle wrenches.

If you're building your own bicycle wheels, or just working on your wheels or tires, we have many different tools that you'll find handy. Our homemade bicycle tools include tubeless tire inflators, tire levers, wheel truing stands, spoke pliers, Schrader valve removal tools, spoke lacing tables and wheel lacing fixtures, spoke tools, wheel dishing tools, and ERD measuring tools for wheels.

For building or fixing your bicycle brakes, our homemade bicycle tool listings include brake flange jigs, brake pad spreaders, brake rotor countersinks, and hydraulic brake bleed funnels and kits. If you need to build a tool to work on your bicycle fork, we have ideas for suspension fork bleeders, fork dropout fixtures, fork seal tools, fork blade cutting fixtures, and a variety of fork jigs.

For working on your bike chain, we have many different builds for chain whips, chain brushes, chain holders, chain wear gauges, chainstay mitering jigs, and even a motorized chain cleaner. For building your own frame, you'll plenty of different kinds of frame straightening gauges, frame fabrication tables, and many ideas for bike frame jigs. If you need bicycle seat tools, look at our ideas for seatpost clamps, seatpost cutting jigs, and seatstay alignment fixtures.

Need to transport your bike? Our homemade bike tools include truck bed mounts and truck carriers for hauling bikes, motorcycle-mounted bicycle racks, roof-mounted motorcycle racks, and even trailers that can be pulled by bicycles.

If you'd like to build tools or machines that are powered by bicycles, check out our DIY bicycle-powered washers, bicycle-powered generators, bicycle plows, and various different attachment assemblies for making bicycle-powered tools.

We also have a wide variety of builds for bicycle-specific wrenches, including torque wrench adapters, pin wrenches, cone wrenches, shock absorber wrenches, headset wrenches, pedal wrenches, rim wrenches, locknut wrenches, and spoke nipple wrenches.

No matter what part of your bike you're working on, or whether you need to transport, store, maintain, or accessorize your bicycle, we have a huge collection of different DIY and homemade bicycle tools right here on HomemadeTools.net.
BuildThreads Network:

HomeMadeTools.net